Welcome to Freese and Nichols University!
Click the Sign in tab above to receive a Student Number (password).
After receiving a Student Number, click the Sign in tab above to register for a class.
Freese and Nichols University (FNU) is the culmination of more than a century of emphasizing education. Our founder, Major John B. Hawley, believed that continuing education was essential to a professional engineer, and today, this belief is an integral part of Freese and Nichols' culture.
The quality of education offered through FNU is a matter of pride within Freese and Nichols. In 2016, the Association for Talent Development (ATD), the world's largest association supporting organizations that foster professional growth, selected Freese and Nichols as a BEST Award winner. This recognition is for organizations that demonstrate enterprise-wide success as a result of employee talent development and use talent development as a strategic business tool to get results.
Clients and employees, regardless of location, can attend seminars taught by Freese and Nichols' technical experts who hold advanced degrees and certifications in their respective disciplines. FNI clients are welcome to attend FNU seminars for free or for a nominal fee. This is another way FNI seeks to achieve our vision of being the firm of choice for our clients.
Example Seminars and Topics: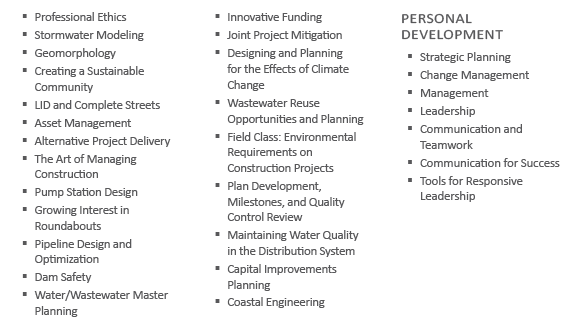 All training offered through FNU is customizable. We work with clients to develop seminars and topics tailored to fit their unique needs.
For more information, contact your Freese and Nichols Client Representative or email FNUniv@freese.com.